On our recent trip down south I discovered my cousin's twin daughters had a pet baby squirrel. It was only hours old when they found it and they took turns bottle feeding it.
I believe this is Sarah with "Duke."
I
am linking this shot to Camera Critters hosted by Misty Dawn.
To check out the wonderful Critters posted by others
click here.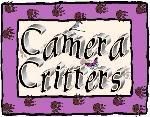 I
am also linking this post to Pink Saturday, hosted by Beverly at How Sweet the Sound.
To join in the fun or just visit the pink post of others visit Beverly
Celebrating its third Birthday this week.